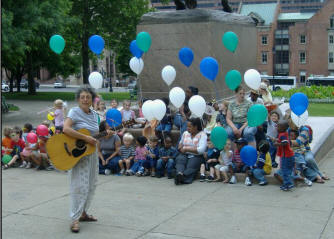 Music Mobile was founded in 1977 by Ruth Pelham to bring learning and love to the neighborhoods of Albany, NY.
Thirty-four years and hundreds of neighborhoods later, Music Mobile has served tens of thousands of diverse people of all ages in the United States and across the world. (more)
Through innovative educational programs, learning and training materials, and original songs, Music Mobile continues to build peaceful communities and empower individuals to be responsible local and global citizens in a world greatly in need of hope and possibility.